Changing practices. Supporting healing.
Mission
We believe survivors of sexual violence deserve the care and support to heal and that community-based organizations have the power to support survivors on this path. When rooted in a deep understanding of sexual violence and using a framework of trauma-informed and healing-centered care, organizations can make a difference in the lives of survivors. Our work is to help organizations do just that.
About
Elevate | Uplift, supported by a collective of national organizations leading anti-sexual violence work, is built on the foundation of lessons learned from the Sexual Assault Demonstration Initiative, a multi-year national project that helped community-based organizations strengthen services for survivors of sexual violence. Elevate | Uplift deepens and broadens that work by offering survivor-serving organizations the opportunity to explore these lessons learned with us.
We engage with organizations to change practices and expand their understanding of healing. We offer learning opportunities to help survivor-serving agencies think critically about how they do their work and make the changes necessary to provide comprehensive and sustainable support for survivors.
Specifically, we offer opportunities for organizations to establish practices and services rooted in anti-racism and anti-oppression frameworks, learn strategies for building empowering leadership, create intentional organizational identity, engage in impactful community organizing and movement building, and expand knowledge of sexual violence and healing.
Opportunities
A variety of learning opportunities will begin in 2019, including those that are general, community-specific, topic-based, and customized for different organizations. To learn more about these opportunities, check out the descriptions below. To sign up for updates, click here.
Facilitated conversations designed to gather new thinking and different perspectives to identify promising practices in the field on a specific topic.
In-depth, 6-8 weeks long, learning opportunities to provide collective and shared knowledge, wisdom, and resources in a way that honors, respects and embraces one another's experiences and voices.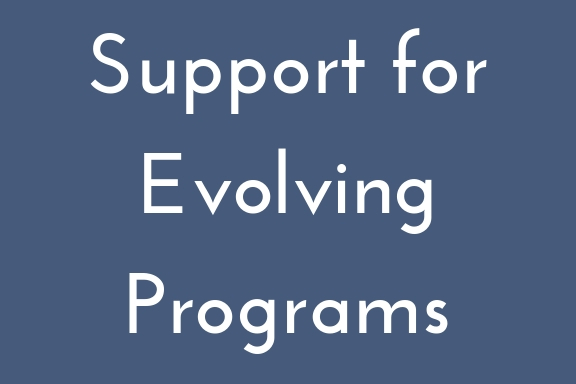 Assistance focused on the growth of a whole program or organization. Support for Evolving Programs will encourage exploration of profound questions about capacity, organizational trauma, and health, and anti-oppression commitment.
Customized training and consultation for state, territorial, and tribal coalitions and organizations, as well as for community service, holistic healing, and other such fields to reach programs that support survivors outside traditional sexual assault services.